SimCentric Technologies to exhibit ITEC Rotterdam, Netherlands – 16th to 18th May 2017

SimCentric Technologies will be exhibiting at ITEC in Rotterdam, 16th – 18th May 2017. With vast ongoing global investment in the VBS3 virtual platform including UK MoD (DVS), US Army (GFT) and US Marine Corps (DVTE & ISMT), SimCentric's value adding VBS3 middleware maximizes the return on this financial and training investment for militaries worldwide. At ITEC, SimCentric shall be demonstrating our flagship VBS3 FiresFST Pro enabling full spectrum offensive fires, close air support and UAV vectoring capabilities. Augmenting this is our Ambience pattern of life generation tool

enabling unprecedented realism in Collateral Damage Estimation and ROE application. Completing this configuration is our MediaMate smart device live streaming application simulating a UAV Rover 5 ISR feed in a BYOD (Bring Your Own Device) integration. A specific emphasis for ITEC 2017 will be demonstrating how incidents of Coalition fratricide and non-combatant collateral damage can be reduced through VBS3 FiresFST Pro visualization aides and procedural support features.
SimCentric shall also be demonstrating advanced applications aimed at delivering greater recurring efficiency and systemic flexibility dividends for the VBS3 user community. Our GUIMate Pro application is a development and modelling tool that accelerates the process of building, deploying and maintaining custom GUI content within VBS3. Through this application, significant training liabilities can be reduced through enhancing intuitive proficiency when operating VBS3. SimCentric shall also be demonstrating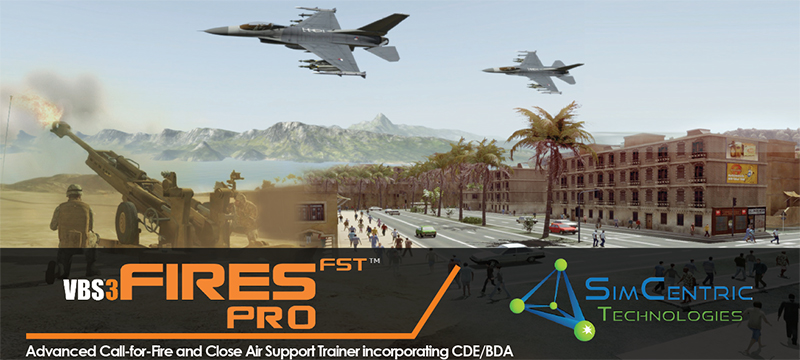 our TrainingMate "virtual classroom" enabling synchronized and instructor enabled VBS3 training instances to be conducted either in a co-located environment, or geographically distributed.
CEO SimCentric Dr Adam Easton commented "we are thrilled at the continuing strong adoption and growth of our modular VBS3 integrated software across a worldwide user community. Our fundamental principle is to ensure we understand the overall capability requirement and the training gap that exists, then address this with the right simulation solution. By continuous and collaborative engagement with our customers, we can meet our goal of delivering a solution, not just a product."



For more information please visit – www.simct.com
For Press or Media enquiries contact – tessbutler@ruddynice.com
---
SimCentric Technologies exhibit at Close Air Support Symposium at Virginia Beach – 4th to 7th April 2017
SimCentric Technologies exhibited at the Close Air Support Symposium in conjunction with QuantaDyn Corporation 4th – 7th 2017 at Virginia Beach. Senior Director – North America, Lee Power demonstrated our flagship VBS3Fires FST application to various  US DoD and NATO stakeholders integrated with Quantadyn's lightweight deployable JTAC training system. Read more…
---
SimCentric providing complementary GUIMate to all current Fusion Users
SimCentric is excited to offer our GUIMate application as a complementary offering to all current VBSFusion Users, enabling a vastly enhanced capability to customise and tailor VBS3 to your requirements. Read more…
---
SimCentric appoint CreativeX Consulting Pte Ltd as Singapore authorised reseller
SimCentric Technologies is pleased to announce the appointment of CreativeX Consulting Pte Ltd as an authorised reseller of SimCentric simulation applications within Singapore effective 31st January 2017.  CreativeX has been a market leader in the delivery of consolidated products and services across the defence, law enforcement, fire services, education and government sectors since 2009. Read more…
---
SimCentric Technologies launch North America Office
SimCentric Technologies proudly announces the opening of our North America Office on 1st March 2017. Based in Fayetteville, North Carolina, this milestone marks an important step for SimCentric in enhancing the engagement, responsiveness, program support and collaborative teaming capacity for both our military and industry partners. …….
---
SimCentric Releases VBS3 FiresFST Pro incorporating Ambience CDE/BDA features
Oxford, UK. SimCentric are excited to announce the release of VBS3 FiresFST Pro, evolving our flagship full-spectrum Call for Fire and Close Air Support Trainer to an unprecedented level. VBS3 FiresFST Pro now incorporates the human and vehicular pattern of life features from our Ambience application ………..
---
SimCentric"s VBS3FIRESFST NATO Accredited in UK Joint Terminal Attack Controller (JTAC) simulator
Oxford, UK. SimCentric are excited to announce that the Nautilus International JTAC simulator system using VBS3FIRESFST has been NATO accredited which then supported the UK JTAC Concentration at RAF Honington. Working with Nautilus to deliver a deployable and highly portable system including COBRA screen and VBS3 software, VBS3FIRESFST has been NATO accredited to Type 2 & 3 controls, Day, Night, FMV and Laser. Using Form………
---
We are exhibiting at I/ITSEC 2016

SimCentric is showcasing their products at the I/ITSEC 2016 starting from the 28th of November to the 2nd of December 2016 at the West Concourse of the Orange County Convention Center in Orlando, Florida. I/ITSEC is also the world's largest modeling, simulation & training conference which will be celebrating its 50th annivesary this year. (1966-2016)
---
Visual search and linkage tool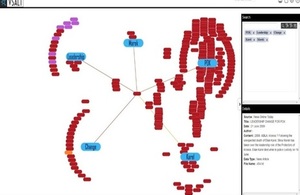 Case study from SimCentric who will pitch their ideas to industry and investors at the CDE Marketplace on 6 September 2016.
---
We are exhibiting at SimTecT 2016